III Ed. Molecular biology and pathology intensivas
Welcome to the 3rd online edition of the course of intensive molecular biology and pathology!
During the last five years, Pathology has definitely entered the era of molecular diagnosis where it has a fundamental role and where it is a link between the laboratory and the clinical disciplines.
The changes that are taking place are being very fast and often dramatic, from both a technical and conceptual point of view: the diagnosis of pathologies is no longer understood only from a morphological point of view if it is not accompanied by one each increasingly complex prognostic and predictive molecular information.
Unfortunately, and despite the past years, the young specialists of this and other specialties have limited access and insufficient knowledge of molecular technology, already essential to practice their profession.
Thus, we have deepened the knowledge of cancer genomics and carcinogenesis, in the molecular management of solid tumors such as lung and colon cancer, introducing a review of the knowledge of the immune response. It is our desire that this course be useful both to pathologists and other specialists to adapt to the new challenges of Medicine and that this translates into benefit for patients.
All the contents offered in the X course face-to-face are organized here by themes, corresponding to the presentations of each of the doctors. Within each unit, apart from the conference, which can be displayed in High Definition, they have a handout (pdf) that expands information and a self-assessment with test questions (no limit of attempts). In some cases, there are also links to go deeper into the subject.
We hope it helps you in your daily practice.
1. Molecules in cell biology: DNA, RNA and proteins
Dr. Ana Muñoz (Molecular Biologist, Pathological Anatomy Service, Hospital Germans Trias i Pujol)
2. Small RNA Species
Dr. Mark E. Sobel (Senior Executive Director, ASIP - American Society for Investigative Pathology)
3. Genetic alterations: mutations, amplifications, delections, translocations...
Dr. Itziar Salaverria (Oncology and Hematology Unit, Biomedical Researcher at August Pi i Sunyer (IDIBAPS) Hospital Clínic)
4. Cancer genomics
Dr. Mark E. Sobel (Senior Executive Director, ASIP - American Society for Investigative Pathology)
5. Cancer Epigenetics
Dr. Verónica Dávalos (Scientific researcher, Bellvitge Research Institute (IDIBELL))
6. Cancer cell biology: carcinogenesis
Dr. Oriol Bachs (Department of Biomedicine, Professor at the UB, University of Barcelona)
7. Epigenetics and Proteomics
Dr. Josep Mª Estanyol (Biologist, responsible for the Proteomics Unit at IDIBAPS Unit Supervisor SCT-UB) at CDB, Hospital Clínic de Barcelona)
8. Cell Culture
Dr. Eva Martínez Balibrea (Scientific Researcher, Research Institute of the Germans Trias and Pujol Hospital)
9. Flow cytometry
Dr. Neus Villamor (Medical Doctor, specialist in Hematology, responsible for the Flow Cytometry Unit, Researcher at the Center for Biomedical Diagnosis)
10. Basic techniques of nucleic acid analysis: DNA, RNA, restriction, electrophoresis, classical sequencing
Dr. Anna Enjuanes (Doctor in Biology, responsible for the Ultrasecuencing service of the Genomics, Functional platform at IDIBAPS)
11. PCR-based techniques and their usefulness
Dr. Dolors Colomer Pujol (Doctor of Biochemistry, Head of Section of the Biomedical Diagnostic Centre, CDB, Hospital Clínic)
12. High performance molecular analysis technologies (microarrays, NGS) and their clinical applications
Dr. Pedro Jares (Doctor in Biology, Head of the Operational Area of Pathological Anatomy, Director of the Genomics Unit at IDIBAPS, Hospital Clínic)
13. On-site hybridization (FISH, CISH, SISH)
Dr. Anna Muñoz (Molecular Biologist, Pathological Anatomy Service, Hospital Germans Trias i Pujol)
14. Immunohistochemistry: Past, Present and Future
Dr. José Luís Mate Sanz (Head of Section of Immunohistochemistry and Molecular Pathology, Hospital Germans Trias i Pujol)
15. Hematological neoplasms
Dr. Gustavo Tapia (Specialist in Pathological Anatomy, Professor at the UAB, Hospital Germans Trias i Pujol)
16. Molecular Pathology. Solid tumours I Sarcomas and melomas
Dr. Enrique de Álava (Director, UGC of Pathological Anatomy, Hospital Virgen del Rocío, Seville)
17. Molecular Pathology. Solid Tumors II
Dr. Miriam Cuatrecasas (Specialist in Pathological Anatomy, expert in digestive and molecular pathology, CDB, Hospital Clínic)
18. Molecular Pathology. Solid Tumors III Lung immune response
Dr. Javier Gómez Román (Pathological Anatomy Service, Marqués de Valdecilla Hospital, Santander)
19. Molecular pathology and pathological anatomy
Dr. Pedro Luis Fernández (Head of Service, Pathological Anatomy, Professor at the UAB, Hospital Germans Trias i Pujol)
Final Evaluation
Satisfaction Survey

Management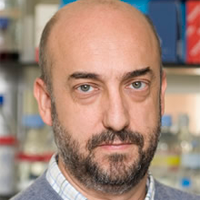 Dr. Pedro L. Fernández
Jefe de Servicio de Anatomía Patológica
HU Germans Trias i Pujol
Nº de Colegiado 28630
Col·legi Oficial de Metges de Barcelona