The Internet and digital tools are already part of our lives and they are changing the way we interact.

Health professionals are making a firm commitment to the use of digital resources in their healthcare practice. The pharmaceutical sector is at a key moment of transformation and digital tools and channels can be a vehicle to add value.

In the commercial teams there is a GAP so that they use even more and better the promotional alternatives offered by digital marketing and above all that the digital activity has its fruits for sale. That is why sales teams need support and motivation to incorporate digital channels and tools into their promotional practice.
PART 1: THE DIGITAL DELEGATE
Module 1: How is digitization transforming health?
Module 2: What benefits does the pharmaceutical industry obtain from the use of digital? What benefits does a digital delegate bring? What does Digital Selling contribute? What role does the delegate play in the digital strategy?
Module 3: How to manage cultural change?
Module 4: How to segment our target based on their digital preferences and interests? What benefits are doctors reaping from the use of digital tools and channels?
Module 5: Digital Competitive Intelligence: How is it updated? How to actively listen to the market? The importance of content in a Digital Selling strategy.
Module 6: Importance of building our digital presence
PART 2: MY DIGITAL PLAN
Module 7: What channels and tools can we use to be in contact with the maximum number of customers?
Module 8: How to add digitally value to my clients beyond promotional or scientific content?
Module 9: Define a Digital Selling plan: step by step. What challenges do I want to achieve? What actions do I do? How to implement them? How to measure the result of my Digital Selling plan?
Staff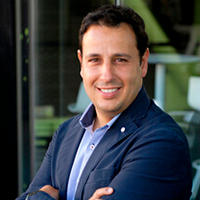 Xavier Olba
Licenciado y Máster en Administración y Dirección de Empresas por ESADE
Consultor de estrategia digital e innovación en el Sector Salud